Shoin Shinto shrine treasury single-minded devotion building
About Shoin Shinto shrine treasury single-minded devotion building
The Shoin Shinto shrine treasury is built in commemoration of a Shoin teacher inviting (2009) to (1859) in 150 years and 2009 when it is in 1859 after it was done death from penalty, junsetsu in the Edo era by the Mass Execution of Ansei. It is aimed for eternal preservation with the writings, the article which a Shoin teacher was left for and, through displaying them, tells in thought of Mr. Shoin in the present age.
The treasure building is divided into a free zone and the paid exhibition room and introduces the ground of a life of Mr. Shoin and the connection in Hagi-shi in the free zone, and it is in the contents which are worth seeing only in this. In the paid exhibition room, I display isumi, the mementos of the teacher coming to the Shoin Shinto shrine clearly and aim at what you are satisfied with from an expert of the history to a beginner.
In addition, I establish the museum shop in the free zone and sell the original goods which are available only here.
Digital catalogue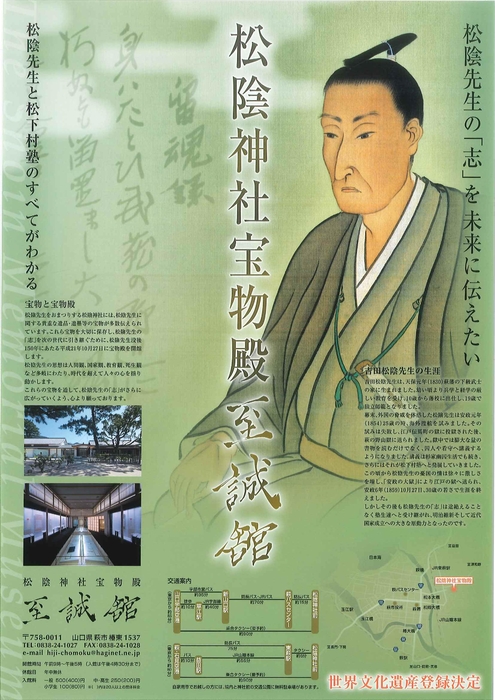 宝物殿至誠館ご案内チラシ